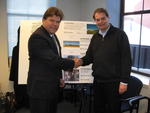 Steve Keenan w/ Gunther Kruse of Lufthansa the Winning Bidde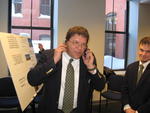 Stef Keenan handles incoming calls, Can you hear me now?


Lot #2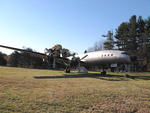 Lot #3


Lot #1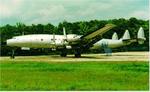 Lot #2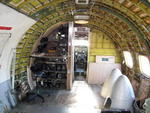 Lot #2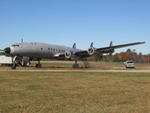 Lot #2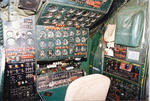 Flight Engineer Panel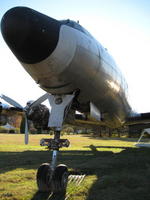 Lot #3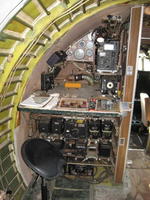 Lot #3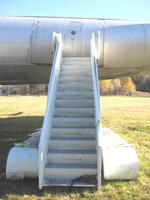 Lot #3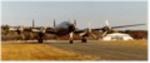 Lot #3


Lot #1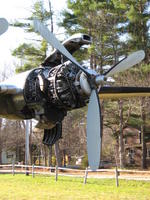 Lot #3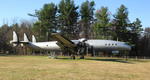 Lot #3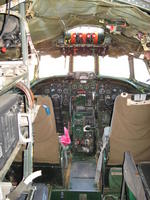 Lot #3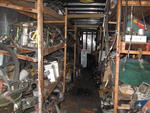 Parts inventory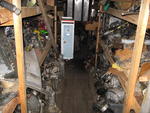 Parts inventory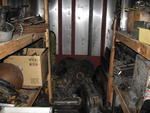 Parts inventory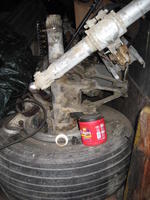 Parts inventory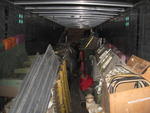 Parts inventory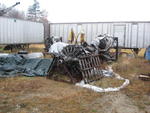 Parts inventory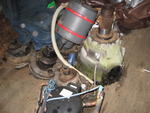 Parts inventory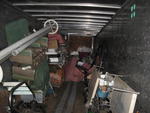 Parts inventory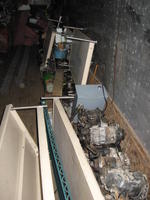 Parts inventory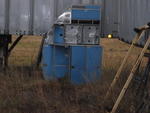 Parts inventory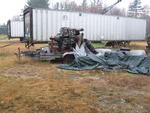 Parts inventory

Auction 07-215
Trustee's sale at
PUBLIC AUCTION 07-215
(3) LOCKHEED L-1649A SUPER CONSTELLATION STARLINERS
RE: BANKRUPTCY CASE NO. 05-22018
SALE TO BE CONDUCTED AT THE OFFICES OF THE US TRUSTEE 537 CONGRESS ST., PORTLAND, ME
AUCTION DATE: TUESDAY, DECEMBER 18, 2007 AT 10AM

PLANES SELL FOR $748,000 AT PUBLIC AUCTION!
(Article from the Portland Press Herald, December 19, 2007)
For more than two decades, Maurice Roundy has been known in Maine's aviation community as the guy with two Constellation Starliners parked on his lawn.

He bought three of the historic airplanes in the 1980s, and somehow managed to fly two of them to Auburn, to his property adjacent to the municipal airport. Visitors from around the world came to see the sleek silver airplanes with 150-foot wingspans, and Roundy tried for all those years to make them airworthy again.

His dream ended on Tuesday at a public auction, the last action in complex bankruptcy proceedings dating back to October 2005.

The planes, along with a third Starliner owned by Roundy, which he kept at an air museum in Florida, were purchased at the auction for a total of $748,000 by a division of Lufthansa, one of the world's largest airlines.

Keenan Auction Company of South Portland sold the airplanes as part of the bankruptcy proceedings involving Roundy and his wife, Jane Theberge. Roundy could not be reached Tuesday.

The planes are Lockheed L-1649A Super Constellation Starliners, built in 1957. Of the 44 that Lockheed built, only four remain intact. There are the three that Roundy owned -- two in Auburn and one at the Fantasy of Flight Museum at Polk City, Fla. -- and a fourth in a museum in Johannesburg, South Africa.

An aviation writer, Ralph Petterson, summed up Roundy's quest in an article in 2002, posted on his personal Web site, www.conniesurvivors.com.

"It had always been Maurice's dream to return one or more of his prized possessions to flying status and tour the air show circuit. But for almost twenty years, this goal eluded him," Petterson wrote. "Maurice had the vision, desire and knowledge to make it all happen but lacked the financial backing."

Two of Roundy's planes were originally bought by TWA in 1957 as luxury commercial airliners. The third was bought by Lufthansa.

"This was the last big piston-powered airliner," said Al Caruso, chief operating officer for Maine Aviation Corp., based in Portland.

"You can see how sleek-looking it is. It was fast, almost 300 miles an hour," Caruso said. "For the time, it was very advanced."

But within a few years, the jet engine emerged and replaced the piston-powered engine for commercial flight. Jet engines could fly faster and higher, and were easier to maintain than their predecessors. Over time, most of the Starliners were scrapped.

In the 1980s, Roundy found and purchased three of them, all of which had been converted into freighters and abandoned.

Caruso was disappointed that Roundy never realized his dream of restoring them, but he was encouraged to see that Lufthansa had stepped in at auction on Tuesday.

"Lufthansa is probably going to restore at least one of them, if they are bringing that much money in," Caruso said. "That is kind of amazing."

Jennifer Urbaniak, a North American spokeswoman for Lufthansa, said the group that bought the planes is a Berlin- based foundation within the company's aviation group.

"They essentially seek to preserve and restore and operate older aircraft from the Lufthansa fleet," Urbaniak said. She did not know the specific plans, if any, that the foundation has for the Starliners.

The sale generated international buzz on Internet chatrooms for aviation enthusiasts, such as www.airliners.net.

On Tuesday afternoon, as word of the auction spread, pilots from Portugal, Germany, the Netherlands, England and the United States discussed the sale and speculated on Lufthansa's plans for the Starliners.

Many of those who posted comments also thanked Roundy for his devotion to the airplanes, which saved them from the scrap heap.

AIRPLANE LOCATIONS:
Lot #1 - N974R is located at: Fantasy of Flight 1400 Broadway Blvd. S.E., Polk City, Florida
Lot #2 - N7316C & Lot #3 - N8083H are located at: 1649 Constellation Drive, Auburn, Maine

********************************************************** The Keenan Auction Company will conduct, pursuant to a bankruptcy court order, a public auction of (3) Lockheed L-1649A Super Constellation Starliners. The auction will take place at the Office of The US Trustee at 537 Congress St., Portland, ME. Interested parties may attend a preview of the airplanes that will take place on Tuesday, November 27, 2007 from 10AM-12PM in Auburn, Maine & Polk City, Florida. **********************************************************
Auction Lot Number List:
Lot Number 1: 1957 Lockheed L-1649A Constellation Starliner, s/n: 1040, FAA # N974R. Currently at Fantasy of Flight, Polk City, Florida.
Lot Number 2: 1957 Lockheed 1649A Constellation Starliner, s/n: 1018, FAA # N7316C. Currently in Auburn, Maine.
Lot Number 3: 1958 Lockheed L-1649A Constellation Starliner, s/n: 1038, FAA # N8083H. Currently in Auburn, Maine.
Lot Number 4: (4) Storage trailers with spare parts. Located in Auburn, Maine.

ONLINE BIDDING AVAILABLE AT PROXIBID.COM





Auction Terms: A $25,000 deposit per plane, $5,000 for spare parts (non-refundable as to the highest bidder) in CASH or CERTIFIED U.S. FUNDS made payable to the Keenan Auction Company (deposited with Auctioneer as a qualification to bid), with the balance due and payable within 3 days of the public sale. A complete set of auction terms and conditions are posted below. For more information contact auctioneer's office at (207) 885-5100 and request auction number 07-215.

Airplane History: Much information has been written and published about the Constellation Starliners. Helpful links have been provided below to assist prospective buyers with their due diligence.

Starliner.net

Auburn Starliners

Connie Survivors Web Page

Fantasy of Flight Home Page

Super Constellation Flyers

Airline History Museum

Constellation Historical Society, Inc.

">Constellation History Web Page

Click Here For Aerial Map to
Lot #1 - N974R

Click Here For Aerial Map to
Lot #2 - N7316C & Lot #3 - N8083H

Click Here For Map to Auction Site - Office of the US Trustee.



Lot #1 - N974R Departing Sanford, FL October 19, 2001 on a flight many "experts" said would never happen (RM Pettersen)



Lot #1 - N7316C Parked at Fantasy of Flight, Polk City, FL. (May 2005)


Lot #2 - N7316C Parked at Auburn, ME. (Nov. 2007)


Lot #3 - N8083H Parked at Auburn, ME. (Nov. 2007)






TERMS & CONDITIONS OF SALE
TRUSTEE'S SALE AT PUBLIC AUCTION 07-214

TERMS: Deposit to bid is $25,000 per plane you intend to buy , $5,000 for spare parts (Non-refundable as to the highest bidder) in Certified US Funds made payable to the Keenan Auction Compnay (Deposited with auctioneer as qualification to bid) balance of purchase price in Certified US Funds will be due by close of business on December 21, 2007. Any Wire Transfer Fees will be the expense of the bidder. Unsuccessful bidder's deposits will be returned via US Mail on December 19, 2007.

BUYER'S PREMIUM: On-site: 10% Buyer's Premium. On-line: 13% Buyer's Premium. In addition to the final bid price, a Buyer's Premium will be added to the final bid for each item purchased. The Final Bid, plus the Buyer's Premium, plus any applicable Sales Tax will equate the total purchase price for that item.

Bidding and acknowledgment will be by bid number only. Please register with the Clerk. Once you become a winning bidder, risk of loss and title passes according to the Uniform Commercial Code (UCC) and you are responsible for your own merchandise. Auctioneer is not responsible for lost, stolen or damaged items.

RISK OF LOSS: Buyer is responsible for all risk of loss or damage immediately upon purchase of the item, and Buyers should make their own insurance arrangements prior to attending the auction. Keenan Auction Company provides no such insurance and is not an insurer of any article offered for sale.

SALES TAX: 5% Maine sales tax on all items. Dealers or exempt agencies must provide us with a copy of their annual resale certificate at time of registration.

REMOVAL OF ITEMS PURCHASED: Items may be removed after complete payment has been made. Consult auctioneer concerning removal conditions, insurance requirements and storage arrangements for both the Florida and Maine locations.

DISCLAIMER: While descriptions are believed to be correct, the Auctioneer and the Seller make no warranties or guarantees, expressed or implied as to the genuineness, authenticity of, or defects in any lot, and will not be held responsible for advertising discrepancies or inaccuracies. Purchaser acknowledges that purchaser has had the opportunity to inspect the lots and that everything is sold on an "AS IS", "WHERE IS" basis except as expressly made in writing. No warranties are made as to the merchantability of any item or their fitness for any purpose. Auctioneer and Seller do not guarantee the accuracy or completeness of the information contained in this catalog. Purchasers should verify and inspect desired items prior to bidding. All statements printed in the auction catalogues, ads, and brochures, as well as verbal statements made by the auctioneer or staff, have come from the Seller and are accepted as reliable. Auctioneer assumes no responsibility or liability for representations made by Sellers and shall have no obligation to verify or authenticate such statements or claims. Any announcements made sale day supersede printed information in the catalogues, ads, and brochures.

The Keenan Auction Company is providing internet bidding as a service to bidder. Bidder acknowledges and understands that this service may not function correctly the day of the auction. Under no circumstances shall bidder have any kind of claim against the auctioneer or anyone else if the internet service fails to work correctly before or during the live auction. The auctioneer will not be responsible for any missed bids from any source. Internet bidders who desire to make certain their bid is acknowledged should use the proxy-bidding feature and leave their maximum bid 24-hours before the auction begins. The auctioneer reserves the right to withdraw or re-catalog items in this auction.

Purchaser does hereby indemnify and hold harmless Auctioneer and Seller from any and all damages and claims of any type whatsoever, caused during the sale or arising out of the sale, or by the removal of the items purchased.

The Auctioneer reserves the right to bid and to reject any and all bids including any bid, which is only a fractional advance over the preceding bid. The Auctioneer reserves the right to group one or more lots into one or more selling lots and to add to or delete from lots at Auctioneer's sole discretion. Absentee bids will be accepted with proper completion of bid form. All bids subject to confirmation of the bankruptcy trustee.

BREACH: Because the assets subject to this agreement are unique, breach of this agreement is not fully remedied by monetary damages. Therefore, in addition to all rights and remedies available in law or equity, Keenan Auction Company shall have the following rights and remedies:
(i) The right to an order for specific performance requiring Bidder to pay the Final Settlement Figure and take possession of the asset;
(ii) The right to resell, at public or private auction, any asset upon fifteen (15) days written notice to Bidder and hold Bidder liable for the difference between the amount received at public or private auction and the Final Settlement Figure, plus all costs of storage and removal of the asset, and all costs and expenses of sale;
(iii) The right to sue for damages in the amount of the difference between the Final Settlement Figure and the fair market value of the asset; and
(iv) The right to rescind the sale and retain as liquidated damages any amount paid to Keenan Auction Company by Bidder.
Bidder shall be limited to an action for damages against the owner of the asset, without right of rescission, upon the auctioneer's call of "Sold" and Buyer shall not be permitted to maintain any action for consequential damages.
In addition, Buyer agrees to pay any and all charges and expenses incurred by reason of any breach of the Terms and Conditions of Sale, including without limitation reasonable attorney's fees.

If any check given in payment is dishonored for any reason (including but not limited to insufficient funds, stop payment or the like), Buyer agrees, whether such check is signed by Buyer as maker or endorser, that if such check is placed in the hands of an attorney for collection, to pay all reasonable attorney fees incurred, together with all court costs and associated expenses in the event suit is instituted.

PLEASE NOTE: You have signed a written binding contract agreeing to the Terms and Conditions of Sale, and understand that any bid you make falls under the Maine Auction Law, Title II, Section 2-328 of the Uniform Commercial Code, and the Statute of Frauds. Maine auctions are under the jurisdiction of the State of Maine Department of Professional and Financial Regulations, Board of Licensure of Auctioneers, 35 State House Station, Augusta, Maine 04330. If you do not agree with the Terms and Conditions of the Sale, please return your bidding card to the clerk.