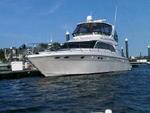 Auction 11-262
Trustee's Sale By:
PUBLIC AUCTION 11-262
2004 SEA RAY 480 SEDAN BRIDGE SPORT YACHT
RE: Chapter 7 Bankruptcy Case No. 11-12411
Tuesday, October 11, 2011 at 10AM
Sale Location: 48 Bowen Rd., Kittery, ME

PREVIEW: Tuesday, September 27, 2011 from 12-1PM. Boat is currently stored at the Kittery Point Yacht Yard, 48 Bowen Rd., Kittery, ME.

ONLINE BIDDING IS AVAILABLE FOR THIS SALE. CLICK ON PROXIBID LOGO BELOW.



- 2004 Sea Ray 480 Sedan Bridge Sport Yacht -

Specs:
USCG Doc. No.: 1156159
Hull Number: SERP6115A404
Year Built: 2004
Length (ft.): 47.7
Overall Length 51'2"/15.6 m
Hull Depth (ft.): 8.7
Beam 15' 3"/4.65 m
Draft (Inboards) 45" / 114.3 cm
Dry Weight 40,400 lbs / 18,325 kg
Fuel Capacity 510 gal/ 1,930.56 L
Water Capacity 140 gal / 530 L
Holding Tank 68 gal / 257.4 L
Dead Rise 15º / 15º

Power: Twin MAN Marine diesels, Model: D2876 LE401, 6-cylinder in-line, 4-stroke, 700 horsepower. 677 hours on meter. (2) 255-gallon, Florida Marine fuel tanks.

TERMS & CONDITIONS OF SALE: To bid on this item prospective bidders will need a $25,000.00 deposit (non-refundable as to the highest bidder) in CASH or CERTIFIED U.S. FUNDS, made payable to the Keenan Auction Company (deposited with the Auctioneer as a qualification to bid). Successful buyer will be required to close the transaction upon bankruptcy court approval of the high bid. Bankruptcy Court Hearing Date will be on October 18, 2011. Certified Deposit Checks should be mailed to Keenan Auction Company, 1 Runway Rd. South Portland, ME 04106. Cash Deposits may be hand delivered to the same address. Wire transfer information: Contact Auctioneer's office at (207) 885-5100. Unsuccesseful bidders deposits will be returned after the completion of the auction. Deposits received by Certified Check will be returned via US Mail on October 13, 2011. Deposits received by wire transfer will be refunded by wire transfer on October 18, 2011. A $15 fee wire fee will apply.

BUYER'S PREMIUM: A 10% Buyer's Premium will be added to the bid price to establish the total purchase price.

Bidding and acknowledgment will be by bid number only. Please complete the online registration process at Proxibid.com. Once you become a winning bidder, title passes (UCC) and you are responsible for your own merchandise. Auctioneer and Seller are not responsible for theft, or damage to vessel after title passes. The risk of loss with respect to the property shall be with the successful purchaser.

SALES TAX: 5% Maine sales tax will apply to Maine residents. Dealers or exempt agencies must provide us with a copy of their annual resale certificate at time of registration. Out-of-state residents are non-taxable if the vessel is berthed outside of the State of Maine. If the non-resident berths the vessel in Maine, they are 60% exempt from paying sales tax.

REMOVAL: Vessel may not be removed until the sale is completed and after complete payment has been made. Purchaser will be responsible for removing or storing the vessel at Kittery Yacht Yard by October 18, 2011. Arrangements to store or remove the vessel at Kittery Yacht Yard by October 18th. is the purchaser's responsibility.

DOCUMENT FEES: Any document filing fees will be the purchaser's responsibility.

WARRANTIES: While descriptions are believed to be correct, the Auctioneer and the Seller make no warranties or guarantees, expressed or implied as to the genuineness, authenticity of, or defects in the asset, and will not be held responsible for advertising discrepancies or inaccuracies. Purchaser acknowledges that purchaser has had the opportunity to inspect the asset, and that the asset is sold on an "AS IS", "WHERE IS" basis except as expressly made in writing. No warranties are made as to the merchantability of the asset or its fitness for any purpose. Auctioneer and Seller do not guarantee the accuracy or completeness of the information contained in the auction catalog.

Purchaser does hereby indemnify and hold harmless Auctioneer and Seller from any and all damages and claims of any type whatsoever, caused during the sale or arising out of the sale, or by the removal of the item purchased.

If any dispute arises between two or more bidders, the Auctioneer at his sole option may put up the lot again for sale at once and resell to the highest bidder. The auctioneer's word will be absolute and final in resolving any disputes.

The Auctioneer reserves the right to bid and to reject any and all bids including any bid, which is only a fractional advance over the proceeding bid. Absentee bids will not be accepted. All bids subject to confirmation of the US Bankruptcy Court.

In the event the Purchaser fails to pay the whole of the purchase price within the time set forth by the Seller, and/or fails to comply with any of the Terms and Conditions of Sale, the Seller may retain and/or recover the full deposit specified as liquidated damages, and in addition thereto, can be resold at public or private sale without further notice. Any deficiency resulting from such resale shall be paid to the Seller by such resale and enforcement of the obligation thereunder. Buyer agrees to pay any and all charges and expenses incurred by reason of any breach of the Terms and Conditions of Sale, including without limitation reasonable attorney's fees.

SEVERABILITY: These terms and conditions of sale shall not be construed against the party preparing them, but shall be construed as if all parties jointly prepared these terms and conditions of sale and any uncertainty or ambiguity shall not be interpreted against any one party. If any provision hereof is held to be illegal, invalid or unenforceable under any present or future applicable laws, such provision shall be fully severable and the terms and conditions herein shall be construed and enforced as if such illegal, invalid or unenforceable provision had never been made a part hereof. The remaining provisions herein shall remain in full force and effect and shall not be affected by such illegal, invalid or unenforceable provisions or by their severance herefrom.

PLEASE NOTE: You have signed a written binding contract agreeing to the Terms and Conditions of Sale, and understand that any bid you make falls under the Maine Auction Law, Title II, Section 2-328 of the Uniform Commercial Code, and the Statute of Frauds. Maine auctions are under the jurisdiction of the State of Maine Department of Professional and Financial Regulations, Board of Licensure of Auctioneers, 35 State House Station, Augusta, Maine, 04330. If you do not agree with the Terms and Conditions of the Sale, please do not bid.

Click here to view Kittery Yacht Yard web site.

Marketing Brochure from Sea Ray's Web site for 2004 Sea Ray 480 Sedan Bridge Sport Yacht.