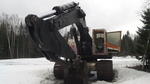 LINK BELT LS5800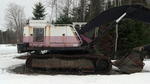 1986 LINK BELT LS5800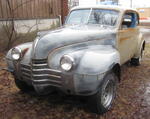 OLDSMOBILE STREET ROD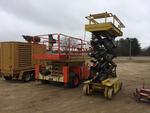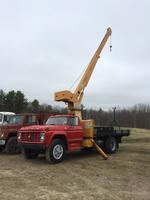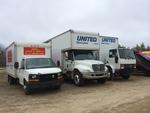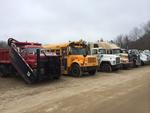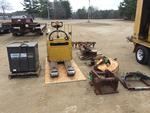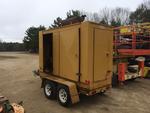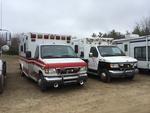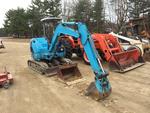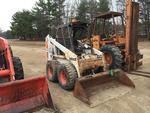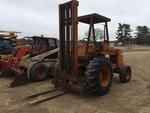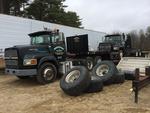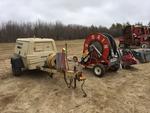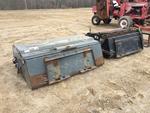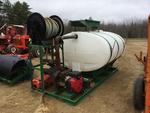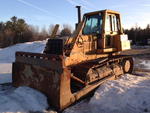 90 JOHN DEERE 850BLT - Sell from photo, not at site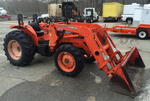 2001 KUBOTA M8200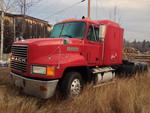 96 MACK CH613 TRACTOR - Sell from photo, not at site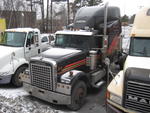 1994 FREIGHTLINER T/A TRACTOR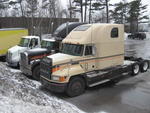 1997 MACK CH613 T/A TRACTOR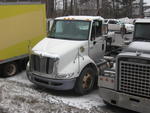 2003 INTERNATIONAL 8600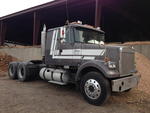 1993 GMC TRACTOR - Sell from photo, not at site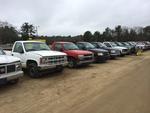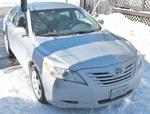 2007 TOYOTA CAMRY LE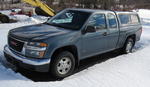 2006 GMC Canyon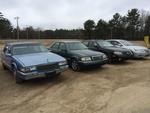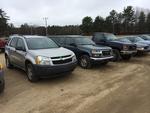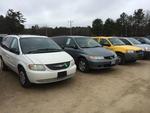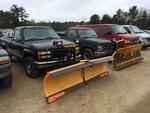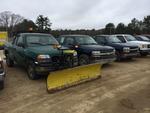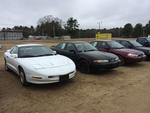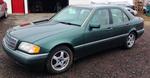 1994 MERCEDES BENZ C-CLASS C280 4DR SEDAN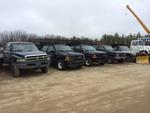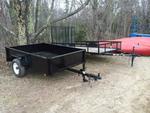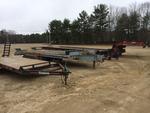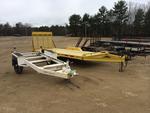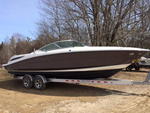 2005 SEARAY 270 SLX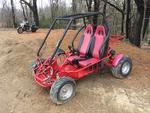 DUNE BUGGY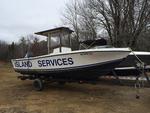 1970's MAKO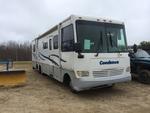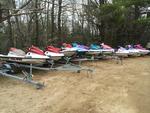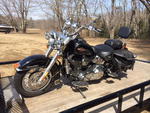 05 HARLEY DAVIDSON HERITAGE SOFTAIL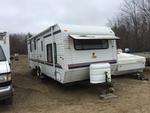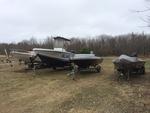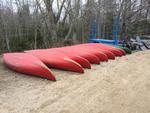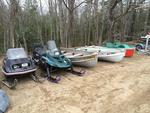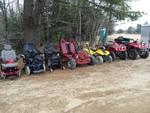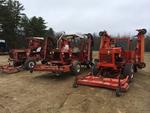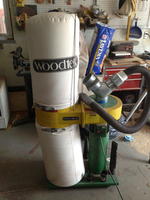 WOODTEK DUST COLLECTOR (LIKE NEW)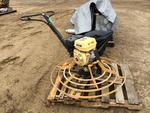 APACHE POWER TROWEL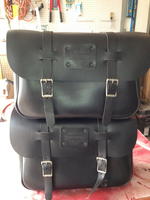 HARLEY DAVIDSON SADDLE BAGS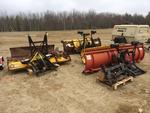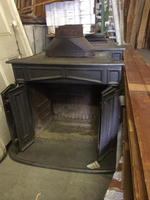 PORTLAND STOVE FOUNDRY FRANKLIN WOOD STOVE

Auction 14-93
42nd ANNUAL SPRING CONSIGNMENT AUCTION 14-93
CONSTRUCTION EQUIPMENT - TRUCKS - TRAILERS - VEHICLES - BOATS - HARLEY DAVIDSON HERITAGE SOFTAIL
Sale Conducted at: BEECH RIDGE MOTOR SPEEDWAY
70 HOLMES RD, SCARBOROUGH, MAINE
THURSDAY, APRIL 17, 2014 AT 9AM



NOTICE: Auction will be conducted in 2 rings!


Ring 1: Lots 1-519, Ring 2: Lots 550-745




AUCTIONEER'S NOTE: We will begin accepting consignments to our 42nd Annual Spring Consignment Auction beginning Monday, April 7th through Monday, April 14th from 8AM-4PM. Please contact our office at (207) 885-5100 for advertising deadlines and consignment rates. Consignor's Include: Bankruptcy Trustees, Secured Creditors, Municipalities, Contractors & Individuals.

A LIMITED NUMBER OF SMALL ITEMS WILL BE ACCEPTED TO THE SALE. PLEASE CONTACT STEVE KEENAN OR SHANE REDDING PRIOR TO ARRIVAL AT THE SITE. KEENAN AUCTION COMPANY RESERVES THE RIGHT TO REJECT ANY CONSIGNMENTS DELIVERED TO THE SALE SITE. CONTACT STEVE: (207)671-7440, SHANE: (207)712-8426

PLEASE NOTE THE FOLLOWING:
THE FOLLOWING ITEMS WILL BE SOLD FROM PHOTOGRAPHS AT THE LIVE AUCTION ON APRIL 17TH. THE ITEMS WILL NOT BE AT THE AUCTION SITE.
- 1996 MACK T/A TRACTOR, MODEL CH613, CUSTOM BUILT CH600 ELITE, E7-454HP DIESEL, MAXI-TORQUE 18-SPEED, SLEEPER, RED, S/N: 1M1AA14Y8TW067048 (REAR END AND INJECTOR ISSUES. 185 NO. MAIN ST., STRONG, ME.)
- 1993 WHITE/GMC T/A TRACTOR, SLEEPER, S/N: YDBCG00PN659268, GREY, (INOPERABLE, CRACKED BELL HOUSING, OIL PAN BROKEN. LOCATED AT 30 NORTON HILL RD. STRONG, ME)
- 1990 JOHN DEERE MODEL 850LT CRAWLER DOZER, S/N: T850BH773034 (INOPERABLE, POSSIBLE ENGINE ISSUE. LOCATED AT 502 MAIN ST.,OXFORD, ME.)
- 1986 LINK BELT MODEL LS5800 HYDRAULIC EXCAVATOR, S/N: 41H5103F, (LOCATED AT 2 TAYLOR RD., RANGELEY, ME.)

RECREATIONAL:
- 2005 SEARAY MODEL 270 SLX 29' BOWRIDER, S/N: USSERR5631D505, VENTURE T/A TRAILER
- 1970's MAKO 21-O/B CENTER CONSOLE BOAT W/ MERCURY OUTBOARD MOTOR AND HOMEMADE S/A BOAT TRAILER
- 2005 HARLEY DAVIDSON HERITAGE SOFTAIL, S/N: 1HD1BWB146Y015729, MILES: 10,000+/-
- 2005 BASS TRACKER PT185 SPECIAL EDITION BOAT, MERCURY FOURSTROKE EFI 60HP MOTOR, S/N: BUJ13465H405 W/ 2004 TRAIL STAR BOAT TRAILER, S/N: 4TM11DF145B001316
- (2) STARCRAFT 14' ALUMINUM ROW BOATS
- 8-PLACE CANOE TRAILER
- (9) CANOES
- JOHNSON OUTBOARD MOTOR W/ FUEL TANK, MODEL 9R-72M
- KAZUMA DUNE BUGGY, S/N: KZMZCCBC662000861

VEHICLES & SCHOOL BUS:
- 2007 TOYOTA CAMRY LE SEDAN, S/N: 4T1BE46K77U009013
MILES: 145,000+/-
- 2006 GMC CANYON 2WD PICK-UP TRUCK WITH TRUCK CAP, 193,081 MILES, S/N: 1GTCS196568119287
- 2001 CHEVROLET K3500 1-TON DUMP TRUCK, 4WD, 8.1-LITER V8, AUTO, FISHER 9.5' E-Z V SNOWPLOW, 63,248 MILES, S/N: 1GBJK34G11E270175
- 2001 THOMAS 77-PASSENGER SCHOOL BUS
- 2000 GMC SIERRA 1500, 4WD, 89,685 MILES, S/N: 1GTEK14T2YZ238868
- 2000 CHEVROLET 1500 PICKUP TRUCK, 161,600 MILES, S/N: 1GCEC19V9YE336780
- 1999 CHEVROLET 3500 FLATBED TRUCK, DIESEL, OMAHA STANDARD BODY, S/N: 1GCHK33F3XF079993 MILES: 82,255
- 1999 FORD F150 PICKUP TRUCK, 5-SPEED, 96,107 MILES, S/N: 1FTZF1723XNA34434
- 1998 DODGE DAKOTA SPORT 4WD, 145,599 MILES, S/N: 1B7GG22X9WS544588
- 1998 FORD ECONLINE E250 CARGO VAN, 191,962 MILES, S/N: 1FTNS2426WHB39101
- 1995 FORD EXPLORER XLT, 4WD, 166,354 MILES, S/N: 1FMDU34X5SUC30865
- 1994 MERCEDES BENZ C280 4-DR SEDAN, AUTOMATIC, SUNROOF, S/N:WDBHA28E1RF086830 MILES: 192,312
- 1985 LINCOLN TOWN CAR SEDAN, 76,616 MILES, S/N: 1LNBP96FXFY764030

ROAD TRACTORS & TRUCKS:
- 2003 INTERNATIONAL 8600 T/A TRACTOR, DAY CAB, CAT C10 385 HP. DIESEL, 10-SPEED, AIR RIDE SUSPENSION, S/N: 1HSHAXTR73J060653, MILES: 816,832
- 1997 MACK T/A TRACTOR, MODEL CH613, CUSTOM BUILT CH600 ELITE, E7-454HP DIESEL, MAXI-TORQUE 18-SPEED, SLEEPER, S/N: 1M2AA18Y1VW070866, MILES: 635,440
- 1994 FREIGHTLINER T/A TRACTOR, SLEEPER, CAT DIESEL, 15-SPEED, 12 FRONTS, 40 REARS, AIR-RIDE SUSPENSION, S/N: 2FUPDXYB5RA612870, MILES: 423,782
- 1994 MACK RD690S W/ CRANE LOADER, S/N: 1M2P264C7RM016858
TRAILERS:
- 1998 UTILITY T/A REFRIGERATED VAN TRAILER, S/N: 1UYVS2480WM491801
- 1998 UTILITY T/A REFRIGERATED VAN TRAILER, S/N: 1UYVS2482WM491802
- 2008 MGS TRAILERS INC S/A UTILITY TRAILER, PINTLE HOOK, S/N: 16MPF08188D052497

CONSTRUCTION & SUPPORT EQUIPMENT:
- 1996 HITACHI EX33U MINI EXCAVATOR, S/N: 00198
- 2001 KUBOTA MODEL M8200 4WD TRACTOR W/ LA1251 FRONT LOADER BUCKET S/N: 51464
- CLARK TM-15S ELECTRIC FORKLIFT, 2,495LB @ 24", SIDESHIFT, 9,480 HOURS, S/N: TM247-0220-8990 W/ HOBART ACCU-CHARGER 725C3-18, 3PH CHARGER
- JLG 33RTS OFF-ROAD SCISSOR LIFT, PROPANE/GAS
- 2003 STONE SAW DEVIL, HONDA 18HP MOTOR, S/N: 392003128
- 1996 GROVE SM3146E SCISSOR LIFT, S/N: 35397
- 2003 INGERSOLL RAND 185CFM TOW-BEHIND COMPRESSOR, S/N: 334823UAN295 (NEEDS AIR/OIL SEPARATOR REPAIRED)

MISCELLANEOUS:
- WALKER 48" 25HP MODEL: MTLGHS MOWER, S/N: 62542
- 8' UNIVERSAL SKIDSTEER SWEEPER BROOM
- TQ TG72B12 PORTABLE GENERATOR 7250 WATT
- 4' X 8' SHEET OF 3/8" THICK GALV. STEEL
- (2) SNO-KONES MODEL 1888 ICE SHAVERS
- (2) ECONO FLOSS COTTON CANDY MACHINES
- QUINCY 7.5HP HORIZONTAL AIR COMPRESSOR (DISSEMBLED FOR STORAGE)
- HUSKY ELECTRIC PRESSURE WASHER
- AG-RAIN WATER-REEL SYSTEM ON TRAILER
- ALUMINUM 16' STAGE PLANK
- ADVANCE WALK-BEHIND SWEEPER
- COMAC AUTOSCRUBBER
- WAYNE LIGHT COMMERCIAL OIL BURNER
- POWER MASTER HOT WATER PRESSURE WASHER
- STEAM JENNY PRESSURE WASHER
- TORO 8HP SNOW BLOWER
- (850+/-) QUICK-CONNECT BALLASTS
- ANTIQUE MILLERS FALLS 1/6HP, 1PH GRINDING MACHINE
- THE PIPE MASTER PIPE THREADER
- ANTIQUE TRACTOR TIRES
- ENTERPRISE 2HP, 220/440 MEAT GRINDER
- (6) PORTLAND STOVE FOUNDRY FRANKLIN WOOD STOVES
- BURNHAM PV85SC-HBUN BOILER W/ 275 GALLON TANK
- ANTIQUE TABLE SAW
- ANTIQUE CONVEYOR TABLE
- MILLER FORCED HOT AIR OIL FURNACE MODEL MOC-80, W/WAYNE BURNER, DUCT
- OLSEN FORCED HOT AIR OIL FIRED FURNACE, W/ BECKETT BURNER, DUCT
- SUN LS2000 AUTOMOTIVE DIAGNOSTIC SCOPE W/ CASE
- SQUARE D POWERLOGIC ENERGY METER
- WRIGHT 3-TON HOIST, 3PH
- COFFING 6,000LB CHAIN HOIST
- PROTECH HEADACHE RACK
- HYDRAULIC RAM FOR 120 THUMB
- 30" DIGGING BUCKET
- METAL SHELVING
- ACETYLENE CART, TORCH, HOSE AND GAUGES
- GENIE LIFT
- APACHE 36/48" POWER TROWEL

DIRECTIONS: From I-95: Take exit 42 Scarborough, Turn left onto Payne road and follow for 1/2 mi., Turn left onto Holmes Rd. and follow 1 mile to auction site on right.



TERMS: Cash or your good check. 10% Buyer's Premium. All items sold for immediate removal day of sale. For more information contact auctioneer's office at (207)885-5100 and request auction #14-93. Sale Catered. Our 6,642nd Auction and 42nd year. Richard J. Keenan #236.