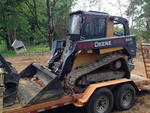 Lot 1 – 2011 John Deere 333DT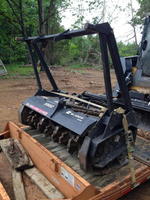 Lot 2 - 2011 Bradco MM60 Mulcher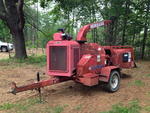 Lot 3 - 2000 Morbark Model 2012D Disc Chipper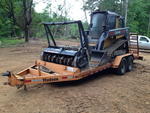 Lot 4 – 2011 Hudson 6-ton trailer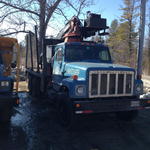 Lot 5 - 1988 Intl. w/ Prentice 120 crane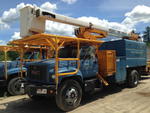 Lot 6 - 2002 GMC C8500 Bucket Truck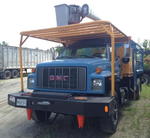 Lot 7 - 1996 GMC C7500 Bucket Truck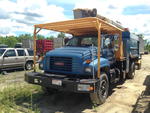 Lot 8 - 1997 GMC C7500 Bucket Truck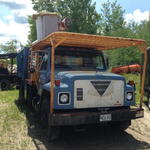 Lot 9 - 1988 Intl. S1900 Bucket Truck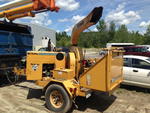 Lot 10 - 2000 Vermeer BC1230A chipper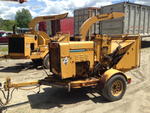 Lot 11 - 2002 Vermeer Model BC935 chipper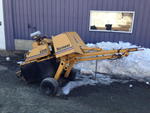 Lot 12 - 1991 Vermeer 630B stump grinder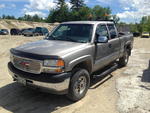 Lot 13 - 2001 GMC Sierra 2500HD 4x4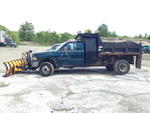 Lot 13 - 2001 GMC Sierra 2500HD 4x4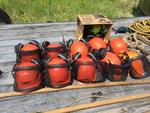 Lot 15 Safety Helmets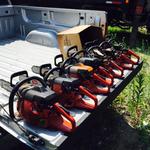 Lot 15 - Chainsaws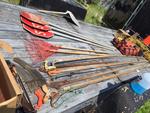 Lot 15 - Long Handled Tools

Auction 15-134
SECURED PARTIES' SALE BY:
PUBLIC TIMED ONLINE AUCTION 15-134
*************************************************
TREE SERVICE EQUIPMENT - BUCKET TRUCKS - PRENTICE LOG LOADER - 2011 JD 333DT TRACK LOADER - CHIPPERS - STUMP GRINDER - FORESTRY MULCHER - TRAILER - PICKUPS
*************************************************
RE: SECURED CREDITOR ASSETS
*************************************************
ONLINE BIDDING BEGINS: SUNDAY, JULY 5, 2015 AT 9AM
ONLINE BIDDING ENDS: THURSDAY, JULY 23, 2015 AT 1PM (STAGGERED END TIMES)
*************************************************
PREVIEW MONDAY, JULY 20, 2015:
LOTS 1-4: 145 RIVER RD., CHELSEA, ME FROM 10-11AM
LOTS 5-14: 146 RIVER RD., LEWISTON, ME FROM 1-2PM



YOU MUST LOG ON TO PROXIBID.COM TO BID AT THIS SALE. CLICK ON PROXIBID LOGO ABOVE.

STAGGERED END TIMES: The Timed Online Auction will be utilizing a staggered end time of (4) Lots ending every (2) minutes. Extending bidding will continue into the next end time until there is no bid for a full 2 minute period.
(Lots 1-4 end at 1PM, Lots 5-8 end at 1:02PM, Lots 9-12 end at 1:04PM, etc. unless the lot is in extended bidding.)

LOT NUMBER LISTING:
LOT # DESCRIPTION

Lot 1 – 2011 John Deere 333DT Compact Track Loader, Hi-Flow hydraulics, 91HP, Forestry Package, Bucket, Enclosed Cab, Heat & A/C, Jenson Stereo Receiver, s/n: 1T033DMTB0201463 Hours: 915.8, 150 hours on new tracks.

Lot 2 - 2011 Bradco MM60 60" Land Clearing Mulching Attachment

Lot 3 - 2000 Morbark Model Storm 2012-D Disc Chipper, 4-knife, JD Diesel, hydraulic feed, tow behind, s/n: 4S8SZ1618YW030160

Lot 4 – 2011 Hudson Model HSL16, 6-ton equipment trailer, fold down ramps, (2) pintle hitches, LT235/85R16E tires, s/n: 10HHSL162B10000036

Lot 5 - 1988 International Model S2554 tri-axle, DT466 diesel, w/ Prentice 120 log loader, 11R24.5 tires & rims, steel flatbed body, 6-stake pockets, s/n: 562336Z33533, Truck s/n: 1HTZNDBT1JH623706

Lot 6 - 2002 GMC C8500 Forestry Truck, Cat 3126, 5-speed, Terex XT70 70ft. bucket-lift, Chip Body, 12R22.5 tires & rims, Kenwood 2-way radio, s/n: 1GDP7H1C62J501694, Miles: 77,341 Hours: 12,422 - TK #7

Lot 7 - 1996 GMC Forestry Truck, Cat 3116, 5-speed, Aerial Lift, Inc. Model 60/50-5-16-414 55ft. bucket-lift, Chip Body w/ Chipper, 11R22.5 tires & rims, Kenwood 2-way radio, s/n: 1GDM7H1J6TJ509975 Miles: 108,510 - TK #5

Lot 8 - 1997 GMC C7500 Forestry Truck, Cat 3116, 5-speed, Aerial 52ft. bucket-lift, Chip Body w/ Hydro-Chipper, s/n: 1GDM7H1J5VJ513776 Miles: 89,724, Hours: 21,763 - TK #6

Lot 9 - 1988 International S1900 Forestry Truck, DT466 diesel, 5&2-speed, Mesco Model MDC10 Dump Chip Box, Aerial Lift, Inc. 50ft bucket-lift, Model AL-50-5-IL-4HM, s/n:1HTLDUXN4JH556103 Miles: 107,206, Hours: 6,317 - TK #3

Lot 10 - 2000 Vermeer Model BC1230A chipper, Perkins 4-cylinder diesel, Auto-Feed II, s/n: 1VRN15171X1002727 Hours: 3,947

Lot 11 - 2002 Vermeer Model BC935 chipper, Perkins 4-cylinder diesel, s/n: 1VRD1015021003910, Hours: 3,469

Lot 12 - 1991 Vermeer Model 630B stump grinder, Wisconsin, s/n: 1VRC11142M1001684

Lot 13 - 2001 GMC Sierra 2500HD 4x4 SLE extended cab, PW, PL, Cruise, Tilt, CD, A/C, 4th door, cloth interior, 6.0-liter, automatic, Back Rack, LT 245/75R16 tires w/ alloy rims, s/n: 1GTHK29U11E167826 Miles: 205,222

Lot 14 - 1995 Dodge Ram 3500 regular cab 4wd plow truck, 360 V8 Magnum, 5-speed, 9ft. Fisher Minute Mount plow, Morse 2-yard dump body, Knapheide side-to-side tool box, s/n: 1B6MF3657SS303714 Miles: 125,366

Lot 15 - Lot of assorted safety equipment: (5) Hard Hats w/ face shields, (3) Chaps, Climbing Rope,(3)Stop Signs, (2) parts chainsaws, manual pole saw

REMOVAL:
LEWISTON : FRIDAY, JULY 24, 2015 FROM 8AM-12PM, CHELSEA: 1-2PM.

TERMS: Valid credit card required to bid. Payment will be by Cash, Visa/MC, Wire Transfer, Checks with approval. Auctioneer may charge buyer's credit card the entire invoice amount at the conclusion of the auction if payment arrangements are not made within 1 hour after invoices have been emailed to buyer. If wiring funds, contact auctioneer for wire instructions. Buyer is responsible for outgoing and incoming wire fees. 15% Buyer's Premium. 2% DISCOUNT FOR CASH. $35 Document Fee for Motor Vehicle Paperwork. Purchaser responsible for shipping arrangements. For more information contact Auctioneer's office at (207) 885-5100 and request auction #15-134. Richard J. Keenan #236. Our 43rd Year & 7,053rd Auction.