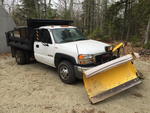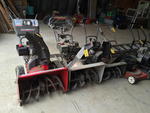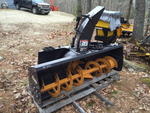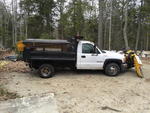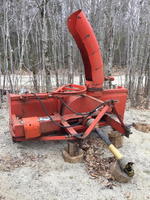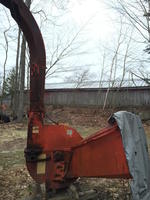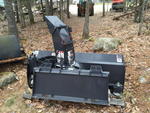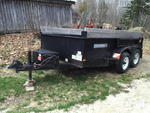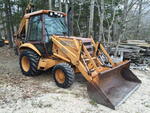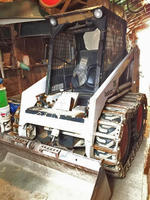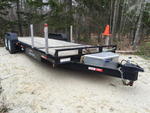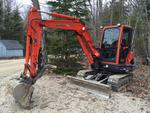 Kubota KX121-3 Excavator

Auction 16-99
PUBLIC EQUIPMENT AUCTION 16-99
2005 KUBOTA KX121-3 MINI EXCAVATOR - 1987 CASE 580K BACKHOE - 1993 BOBCAT 743B SKIDSTEER - ATTACHMENTS - 2006 1-TON DUMP TRUCK - (3) TRAILERS - WELDERS - GENERATORS - CONTRACTORS EQUIPMENT - WOODWORKING
RE: ROBERT T. GRINDLE CONSTRUCTION
WEDNESDAY, MAY 25, 2016 at 10AM
19 MOUNTAINSIDE LANE, BLUE HILL, ME

PREVIEW: 8AM Morning of sale.

AUCTIONEER'S NOTE: The Keenan Auction Company has been selected to conduct the auction sale of the assets of Robert T. Grindle Construction Company in Blue Hill, ME. Grindle Construction has been in operation for over 40 years, providing quality construction and general contracting services in the greater Hancock County area. At their request, our firm met with Mr. & Mrs. Grindle in July of 2015 to discuss a retirement auction to be held in the spring of 2016. Sadly, Mr. Grindle passed in January of 2016. A long time, and good customer of Keenan Auction Company, Mr. Grindle enjoyed attending public auctions over the years, and our firm appreciates the opportunity to represent Mrs. Grindle, and complete the auction process that began last July. We invite you to attend this one day auction event. There is ample parking, a food vendor will be on-site, adequate restrooms available, and the sale will be conducted in walk-around style, rain or shine. See you at the sale!
Steve Keenan, Auctioneer

PARTIAL LISTING:
EQUIPMENT:
- 2005 Kubota KX121-3 Super-Series Mini-excavator, 4.2-ton, 4-cylinder 40.5hp diesel, 6-in-1 blade, 5'11"w, A/C enclosed cab, thumb, s/n: 30304, Hours: 457
- 1987 Case 580K 4x4 tractor loader backhoe, enclosed cab, thumb
- 1993 Bobcat 743B skid steer loader, enclosed cab, bucket s/n: 509321588

VEHICLES & TRAILERS:
- 2006 GMC Sierra SL 3500 4x4, Vortec 6.0-liter V8137" WB, Dual 16" rear wheels, HD Trailering/Handling Suspension Package, &/ Fisher Plow Frame, steel dump body w/ fold down mesh side extensions. s/n: 1GDJK34U86E226551
- Downeaster Dump Trailer, 2-axle
- Sure-Trac Tilt Bed Equipment Trailer, 2-axle

SNOW REMOVAL EQUIPMENT:
- CASE 72" Skid Steer Snow Blower Attachment Standard Flow, Model 11006E0924, s/n: 1051210-73
- Fisher Sander
- Tailgate Sander

TRACTOR ATTACHMENTS:
- 2011 US Mower Model EX30 Samurai Flail Mower Direct Drive, s/n: 101918 (Fits 3,500 to 20,000 lb. excavators)
- Chipper, 3pt hitch, PTO drive
- Helm Snow Blower, 3pt hitch, PTO drive
- Woods Brushbull Rotary Cutter, 3pt hitch, PTO drive
- Howard HR10-155 Rotovator, Tiller, 3pt hitch, PTO drive, s/n: 010E009054
- Sweepster Sweeper Attachment, hydraulic drive
- Tractor Winch
- Forktine Attachment

SHOP & WOODWORKING EQUIPMENT:
- Towing Accessories
- Lincoln Arc Welder
- Acetylene Cart, Torch and Gauges
- Delta Planer
- Ryobi Compound Miter Saw
- Drill Press
- Bench Grinders
- Abrasive Cut-Off Saw
- Battery Chargers
- Tool Chests
- Assorted Hand Tools
- Hand Clamps
- Sears Bandsaw
- Central Pneumatic Air Compressor
- Extension Cords
- Long Handle Tools
- Ridgid Pressure Washer
- Hand Carts
- Chains
- Welders
- (4) Generators
- Woodworking
- (2) Canoes

REMOVAL: Day of Sale until 4PM & Thursday, May 26, 2016 from 8AM-2PM.

TERMS: Cash or your good check. Out-of-State Checks with Bank Letter of Guarantee. 10% Buyer's Premium. All items sold for immediate removal. For more information call (207) 885-5100 and request auction #16-99. Our 7,289th Auction and 44th Year. Richard J. Keenan #236.