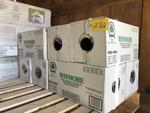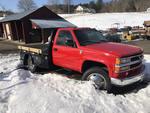 2000 CHEVROLET C3500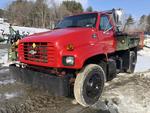 1997 CHEVY C6500 22K MILES!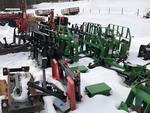 NEW FORK TINES & ACCESSORIES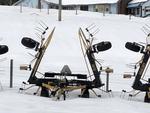 NEW ESCH HAY TEDDER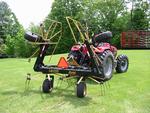 NEW ESCH HAY TEDDER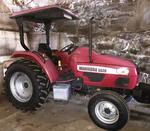 MAHINDRA 5520 2WD TRACTOR 706 HOURS!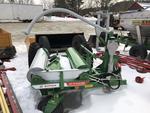 NEW ROUND BALE WRAPPER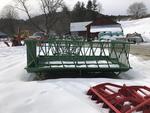 HAYSAVER FEEDER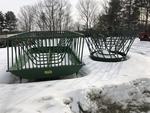 NEW HAYSAVER FEEDERS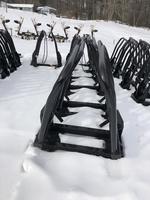 NEW BALE GRABBERS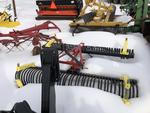 NEW LANDSCAPE RAKES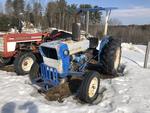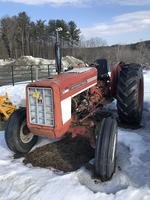 INTERNATIONAL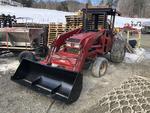 CASE C80 W/ LOADER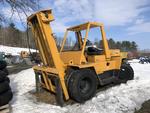 CAT V180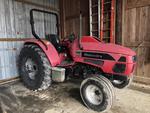 2010 MAHINDRA 8560 TURBO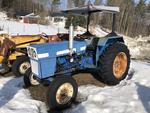 LONG 1581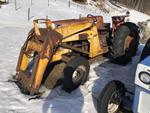 MASSEY FERGUSON 165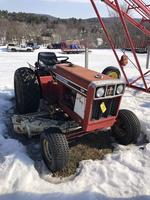 INTERNATIONAL 184 LO-BOY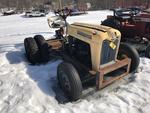 WORTHINGTON G-4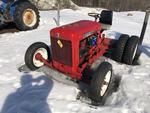 WORTHINTON G-6 RED SEAL 4-CYL.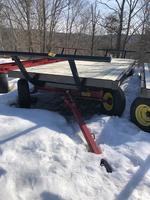 NEW ROUND BALE CARRIER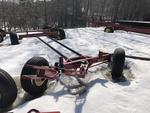 NEW WAGON RUNNING GEAR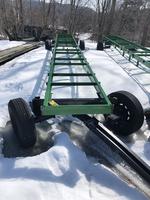 WAGON FRAME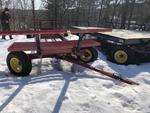 NEW ROUND BALE CARRIER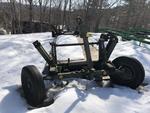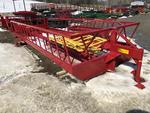 NEW CENTER RIDGE FEED WAGON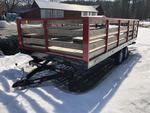 NEW HAY RIDER WAGON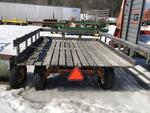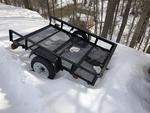 SMALL UTILITY TRAILER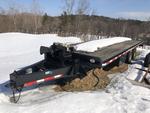 2-AXLE TILT DECK EQUIPMENT TRAILER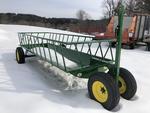 NEW SLANT BAR FEDDER WAGON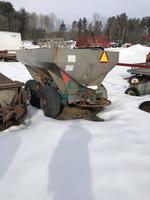 FERTILIZER SPREADER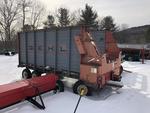 GEHL FORAGE WAGON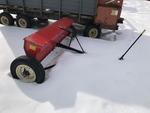 GINDY SEEDER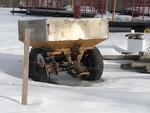 SOUTHERN STATES BIG BOY SPREADER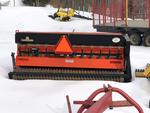 LAND PRIDE ALL PURPOSE SEEDER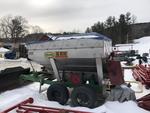 KBH 110 FERTILIZER SPREADER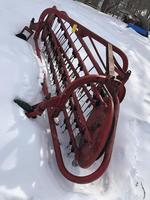 SIDE DELIVERY RAKE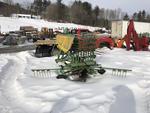 STOLL R415 AS TEDDER/RAKE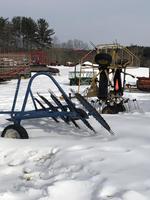 HAY RAKE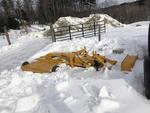 WOODS OFF-SET DITCH BANK MOWER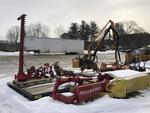 MOWING EQUIPMENT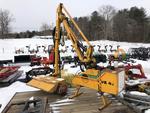 McCONNEL DITCH BANK MOWER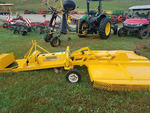 WOODS OFF-SET DITCH BANK MOWER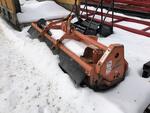 ALAMO 96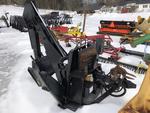 BACKHOW ATTACHMENT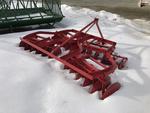 DISC HARROW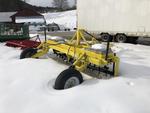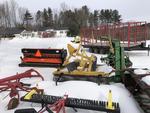 LANDSCAPE RAKES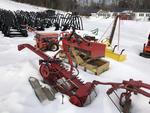 SICKLE BAR MOWER & SCRAPER BLADES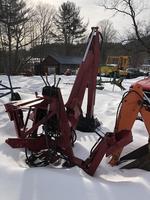 BACKHOE ATTACHMENT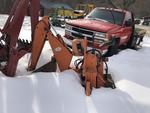 BACKHOE ATTACHMENT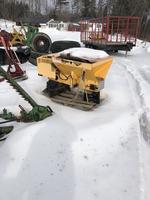 BUYERS SANDER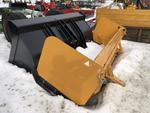 SNOW PUSHER & BUCKET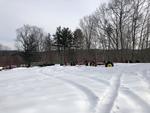 HAY WAGON RUNNING GEAR

Auction 19-84
PUBLIC TIMED ONLINE AUCTION 19-84
*************************************************
INVENTORY REDUCTION AUCTION! NEW & USED HAY EQUIPMENT & FARM IMPLEMENTS - FARM TRACTORS - FORKLIFT - BACKHOE ATTACHMENTS *************************************************
ONLINE BIDDING BEGINS: SUNDAY, MARCH 31, 2019, 9AM
ONLINE BIDDING ENDS: TUESDAY, APRIL 16, 2019, 1PM
*************************************************
RE: INVENTORY REDUCTION OF BLISS FARM ENTERPRISES, CHESTER VERMONT
*************************************************
PREVIEW: FRIDAY, APRIL 12, 2019 FROM 10AM-12PM, 74 HIGH ST., CHESTER, VT



YOU MUST LOG ON TO PROXIBID.COM TO BID AT THIS SALE. CLICK ON PROXIBID LOGO ABOVE.

AUCTIONEER'S NOTE: The Keenan Auction Company is pleased to announce the inventory reduction auction of Bliss Farm Enterprises in Chester, Vermont. For over 75-years the Bliss family has operated their family farm in Chester, VT and continue to due so today. Owners Rick Bliss & Amy Smith have contracted with our firm to conduct an inventory reduction auction for the new & used farm equipment sales division side of their business. This important auction will offer dozens of new & used farm implements, hay equipment, tractors, wagons, and much, much more, all in time for the spring season. The online auction will be conducted through our online bidding partner Proxibid. Please join us by clicking on the Proxibid logo above, registering to bid, and participating in this excellent savings event! You may also inspect the items at a scheduled preview that will take place on Friday, April 12th from 10AM-12PM. For more information contact auctioneer's office at (207)-885-5100. Thank you for your anticipated participation and contact us if you have any questions.

Regards,
Stefan Keenan, CAI, AARE
Keenan Auction Company, Inc.
VT.License # 057.0000762

NEW EQUIPMENT:
• HAY & SILAGE FEEDERS
• SQUARE BALE WAGONS & BODIES
• ESCH HAY TEDDERS
• ROUND/BIG SQUARE CARRIERS/TRANSPORTS
• BALE GRABBERS & HD BALE SPEARS
• BALE WRAPPERS
• HYDRAULIC BALE UNROLLER
• HAYRIDE WAGONS
• RUNNING GEARS
• REMOTE HYDRAULIC POWER UNITS
• 3-POINT HITCH LOGGING WINCHES
• 3-POINT HITCH REAR BLADES
• ROTARY HAY RAKES
• BALE SPEARS
• PALLET FORKS & ACCESSORIES
• TRACTOR WEIGHT BOXES
• ASSORTED SIZE SKID STEER BUCKETS
• SNOW PUSHERS
• LARGE INVENTORY OF BALING TWINE
• NEW AG TIRE RIMS

TRUCKS - TRACTORS - FORKLIFT - USED EQUIPMENT:
• 1997 CHEVROLET C6500 SERIES FARM TRUCK, 6.0-LITER, V8, 4-SPEED AUTO, DROP SIDE MILITARY DUMP BODY, HEADBOARD, PTO & HYDRAULIC PUMP, NO DUMP CYCLINDER OR HOSES, MILES: 22,144 S/N: 1GBG6H1PXVJ108753
• 2010 MANINDRA 8560 TURBO 2WD TRACTOR, ROPS, S/N: KNTR1030 AA
• 2007 MAHINDRA 5520 2WD TRACTOR, ROPS, CANOPY
• CASE IH C80 2WD TRACTOR W/ CASE 2250 LOADER BUCKET, CAB, TURF TIRES, CHAINS, S/N: C080RN3JJE1006310
• CATERPILLAR V180 DIESEL FORKLIFT
• 1967 MASSEY FERGUSON 165 2WD TRACTOR W/ LOADER, 58HP., 2,767 HOURS, S/N: 9A26922
• 1978 INTERNATIONAL 184 LO-BOY, 62" MID-MOUNT MOWER DECK, & INTERNATIONAL SICKLE BAR MOWER, S/N: 2000115U046031
• FORD 2WD TRACTOR, W/CANOPY, 2,488 HOURS, S/N: B078154
• LONG 1581 2WD TRACTOR, W/CANOPY, 2,581 HOURS, S/N: 412245
• WORTHINGTON MODEL G4 TRACTOR,4-CYLINDER GAS ENGINE, S/N: 944
• WORTHINGTON MODEL G6 TRACTOR, CONTINENTAL RED SEAL 4-CYLINER ENGINE 3,820 HOURS, S/N: 2308
• BACKHOE 3-POINT HITCH, SELF-CONTAINED W/OWN PUMP
• 10' AERWAY AERATOR, HYDRAULIC LIFT
• 220LB SUITCASE WEIGHTS
• 100LB CASE SUITCASE WEIGHTS
• YORK LANDSCAPE RAKES
• 3-POINT HITCH BOX SCRAPERS
• LAND PRIDE ALL PURPOSE SEEDER
• GINDY SEEDER
• KBH 110 4-TON FERTILIZER CART, TANDEM AXLE, STAINLESS STEEL BOX
• WOODS OFF-SET BUSH HOG DITCH BANK MOWER
• SICKLE BAR MOWERS
• ALAMO 96" FLAIL MOWER, 3PT HITCH
• McCONNEL PA41 REAR MOUNT BOOM MOWER
• MASSEY FERGUSON 25 SIDE DELIVERY RAKE
• HAY TEDDERS
• HAY RAKES
• STOLL R415 AS TEDDER/RAKE
• CASE 445 TRACTOR W/ FRONT MOUNT BROOM
• SMALL SINGLE AXLE ULTILITY TRAILER
• GEHL FORAGE WAGON, TANDEM AXLE
• DISC HARROW
• CATTLE RUB BROOM BRUSH
• MODEL A/T DOODLE BUG WITH PLOW
• TELEPHONE POLES
• 5-TON ELECTRIC CHAIN FALLS
• CHEVROLET 1-TON REGULAR CAB TRUCK, DUALLY, W/ CUSTOM FLATBED/UTILITY BODY
• CHEVROLET 4WD REGULAR CAB PICKUP, 8FT. BED
• (2) FULL-SIZE FORD BRONCOS
• TILT DECK EQUIPMENT TRAILER, DECK OVER TANDEM AXLE

LOCATION MAP:


REMOVAL TERMS:
- ALL BUYERS ARE RESPONSIBLE TO REMOVE THEIR PURCHASES FROM THE AUCTION SITE.
- BUYERS SHOULD TRY AND SCHEDULE THEIR ITEMS TO BE REMOVED FROM THE PROPERTY ON ONE OF THE DATES LISTED BELOW. IF YOU CANNOT MAKE IT ON ONE OF THE REMOVAL DATES BELOW, ARRANGEMENTS CAN BE MADE FOR AN ALTERANTE DATE TO PICKUP YOUR ITEM.
- IF YOU ARE HIRING A SHIPPING COMPANY, PLEASE TRY AND ARRANGE FOR THE SHIPPING COMPANY TO PICKUP ON ONE OF THE REMOVAL DAYS BELOW.
- PLEASE NOTE: MOST SHIPPING COMPANIES WILL NOT PALLETIZE YOUR ITEMS, HOWEVER THE BLISS FAMILY CAN PROVIDE YOU A QUOTE TO PALLETIZE AND LOAD YOUR ITEM.
- THE BLISS FAMILY WILL ALSO PROVIDE LOADING ASSISTANCE ON SMALLER IMPLETMENTS AND ATTACHMENTS.
- THE BLISS FAMILY CAN ALSO GIVE YOU A TRUCKING QUOTE DEPENDING ON YOUR LOCATION.

REMOVAL DATES:
WEDNESDAY, APRIL 17, 2019 FROM 8AM-3PM
THURSDAY, APRIL 18, 2019 FROM 8AM-3PM
FRIDAY, APRIL 19, 2019 FROM 8AM-3PM
SATURDAY, APRIL 20, 2019 FROM 8AM-12PM

TERMS: Valid credit card required to bid. Payment will be by Visa/MC ONLY. Auctioneer will charge buyer's credit card the entire invoice amount at the conclusion of the auction. 17% Buyer's Premium. Purchaser responsible for shipping & handling costs. For more information call (207) 885-5100 and request auction number 19-84. Stefan P. Keenan, VT Lic. #057.0000762. Our 47th Year & 7,988th Auction.