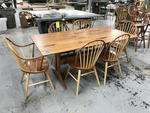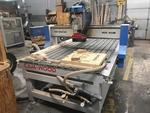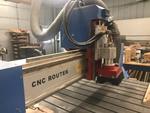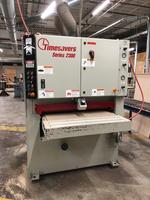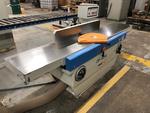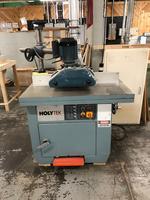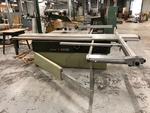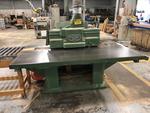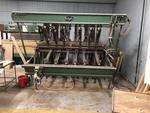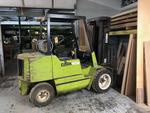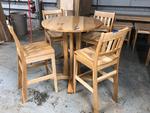 Auction 19-161

SECURED PARTY'S SALE BY


PUBLIC TIMED ONLINE AUCTION 19-161
*************************************************************
CNC MACHINES - CLAMP CARRIERS - PLANERS - JOINTERS - SANDERS - SHAPERS - PANEL SAWS - ROUTERS - MITER SAWS - DRILL PRESSES - DUST COLLECTION - PALLET RACKING - PALLET JACKS - SPRAY BOOTHS - FORKLIFT
*************************************************************
RE: LOVETT WOODWORKS LLC, WILTON, MAINE
*************************************************************
ONLINE BIDDING BEGINS: SUNDAY, AUGUST 11, 2019 AT 9AM

ONLINE BIDDING ENDS: MONDAY, AUGUST 26, 2019 AT 1PM
(STAGGERED END TIMES)
*************************************************************
PREVIEW DATE: MONDAY, AUGUST 19, 2019 FROM 10AM-11AM.
128 WELD ROAD, WILTON, MAINE



YOU MUST LOG ONTO PROXIBID.COM TO BID AT THIS SALE. CLICK ON PROXIBID LOGO ABOVE.

STAGGERED END TIMES: The Timed Online Auction will be utilizing a staggered end time of (10) Lots ending every (2) minutes. Extending bidding will continue into the next end time until there is no bid for a full 2 minute period. (Lots 1-10 end at 1PM, Lots 11-20 end at 1:02PM, Lots 21-30 end at 1:04PM, etc. unless the lot is in extended bidding.)

PARTIAL LISTING:
- CAMWOOD WR408 3-AXIS CNC ROUTER
- MAXYM 2248 3-AXIS CNC ROUTER
- 1995 CMS NC-P.F./112-TUCU 5-AXIS CNC
- TIMESAVER SERIES 2300 WIDE BELT SANDER
- MATTISON 404 RIP SAW
- 2007 HOLYTEK CM-405E JOINTER
- 2002 HOLYTEK HP600R BANDSAW
- 2002 HOLYTEK HP660 PLANER
- HOLYTEK SHAPER
- SCMI L'INVINCIBLE T-120C SHAPER
- SCMI SI16WA SLIDING TABLE SAW
- 2001 P. BACCI MOD SLOT MORTISER
- 2001 P. BACCI TSC 2T TENNONER
- TAYLOR CLAMP CARRIER
- JLT PANEL CLAMP RACKS
- TYLER POWER POD PRESS
- WEINIG RONDAMAT 960
- NORTHTECH JSR-24P UPCUT SAW
- OAKLEY STROKE SANDER
- PROGRESS STROKE SANDER
- DELTA DRILL PRESS
- DELTA UNISAW TABLE SAW
- (2) POWERMATIC TABLE SAWS
- DEWALT & MILWAUKEE MITER SAWS
- ASSORTED ROUTERS
- JET WOOD LATHE
- POWERMATIC BANDSAW
- POWERMATIC JOINTER
- MARTIN THICKNESS PLANER
- MARTIN JOINTER
- NORD FAB BLOWER DUCT
- FREUD BISCUIT JOINTER
- DIXIE AIR SYSTEMS DUST COLLECTOR
- GRIZZLY HORIZONTAL DRILL
- MASTERWOOD SPEEDY 207 CNC DRILL,
- QUINCY HORIZONTAL AIR COMPRESSOR
- CLARK LP FORKLIFT
- CARGO SPORT ENCLOSED TRAILER
- PALLET RACKING
- PALLET JACKS

REMOVAL:
MONDAY, AUGUST 26, 2019 FROM 2:30PM-4:30PM
TUESDAY, AUGUST 27, 2019 FROM 8AM-4PM

RIGGING: INDIVIDUAL PURCHASERS AND COMPANIES CONDUCTING THEIR OWN RIGGING MUST PROVIDE EVIDENCE OF AUTO INSURANCE, WORKERS COMPENSATION INSURANCE AND A CERTIFICATE OF LIABILITY INSURANCE WITH A MINIMUM OF $1,000,000 GENERAL LIABILITY TO CONDUCT ANY RIGGING ONSITE. It is the purchaser's responsibility to provide to the auctioneer the proof of liability insurance. Additional insured will be required on the certificate of insurance.

DISCONNECTS: Purchaser is responsible for all disconnects. Disconnects are to be performed within the guidelines of industry-accepted standards and are to be performed by a qualified, licensed technician. Any disconnect will be conducted in observance of current guidelines, statues, laws, and policies of the federal, state, and local agencies and/or other governing parties.

DAMAGES: Buyer does hereby indemnify and hold harmless Auctioneer and Sellers from any and all damages and claims of any type whatsoever, caused during the auction or arising out of the auction, or by the removal of the merchandise purchased. Buyer will be held responsible for any damage Buyer may create to the real property, other merchandise at the sale, or parties during the removal process. The Buyer, whether acting as principal, agent, officer or director of a company or otherwise, in any capacity whatsoever, and the company Buyer represents, both jointly and severally agrees to indemnify and save harmless Auctioneer and Seller and their employees, agents, and attorneys, and real property owner from any and all actions, causes of action, suits, damages, costs, and losses of any nature, including injury and death, arising from the purchase or use of any merchandise, or the attendance or participation of Bidder, his/her agents or employees, at the auction and/or on the auction site whether before, during, or after the auction.

TERMS: Payment in US FUNDS by Cash, Certified Funds, Visa/MC. 15% Buyer's Premium. Purchaser responsible for shipping arrangements. Auction Company does not provide shipping, packaging or handling services. For more information contact Auctioneer's office at (207) 885-5100 and request auction #19-161, Richard J. Keenan, License #236. Our 47th Year & 8,086th Auction.